Sybran Communications has the Video Surveillance Solution that is perfect for your business to help you increase revenue and boost profits. Read the top 6 reasons businesses should invest in video surveillance.
Top 6 Reasons for Video Surveillance
---
Monitor Employees
Employee productivity increases greatly when they are being watched.  This also helps improve overall integrity of your team.
Reduce Loss
No workplace is 100% protected from theft. Video Surveillance will help reduce and detect theft. Many insurance companies give discounts for these solutions. Check with your agent for more information.
Resolve Conflicts
Conflicts arise between employees or employees and customers.  Eliminate the questions and conflicts by being able to verify the actual footage.
Improved Safety
Safety is improved for everyone involved-employees, customers, and business owners.  This helps deter many safety violations including sexual harrassment and criminal activity.
Real Time Monitoring
Business owners can't be everywhere all the time.  Using this technology will help manage employees in real time on mobile devices from anywhere empowering owners to have more freedom.
Boost Profits
Business owners are reporting higher profits after benefiting from improved productivity, theft reduction, improved employee and customer experiences, conflict resolution and having the ability to monitor in real time.
---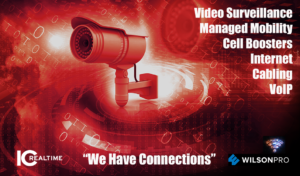 Sybran Communications also offers residential solutions to help protect your home and loved ones.  Contact us today to learn more.
We partner with IC RealTime and Axis Communications to provide high quality services at reasonable rates!  Check out our Video Surveillance Solutions!