Access Control
Sybran Communications provides safety and security for your business by providing keyless access control to your property gates, building and office doors. We use reliable integrated solutions for property management. These solutions are intuitive and easy for the end user to maintain. Key fobs and mobile devices can be used to access your property.
Sybran Communications will give your business the assurance of knowing who is in your building or on your property. Schedule an appointment today with one of our professionals to discuss your access control needs.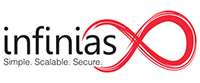 Want to learn more? Please, contact us today. You may also read our reviews and company profile on HomeAdvisor.